So you're probably wondering what Live Chat is? And how will it improve your business?
Then you're in the right place! In this Ultimate Guide To Live Chat, we're going to enlighten you on everything and anything about Live Chat and why you should consider getting one for your organisation.
In today's business industry it is no doubt that everyone is staying at home and businesses of all shapes and sizes and no matter the industry are all busy running their systems online to cater to their customers' needs. With Live Chat, you can run your business in the comfort of your home. While providing quality customer service as well.
What is Live Chat?
Businesses use Live Chat as a communication channel with their customers. It's an online service or tool that allows customers who visit their business website to have real-time conversations with them by using a chatbox. It's an easy way to cut through the noise and hassle of email and phone calls and on-site visits to address concerns.
Live chat is handled by chat support agents or customer service representatives to communicate with customers. The best thing about Live Chat software is that it can be built into any website, web page or mobile to enhance customer service and customer experience.
About 41 per cent of customers already expected Live Chat to be available on a business website and 50 per cent for mobile visitors.
With how fast-paced technology has become, businesses have to keep up to meet the growing demands and high expectations of their customers online. With Live Chat, they can help streamline their communication processes and provide great customer service to their customers.
Is Live Chat Only for Websites?
Live Chat is innovative and flexible as a communication channel and it can be embedded in websites, apps and even through social media channels of your business.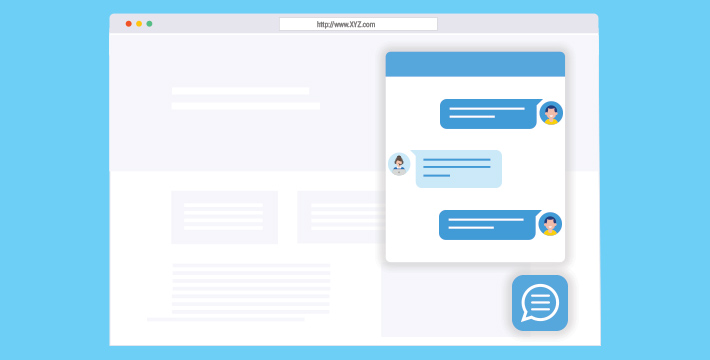 Who Are the People in Your Business That Can Use Live Chat?
With proper training and knowledge, they can use Live Chat software efficiently and effectively in your business depending on your  strategy.
Customer Service Departments
Sales and Marketing Departments
Managerial Departments
Advantages and Disadvantages of Using Live Chat for Your Business
Advantages:
Effectively Increases Customer Satisfaction
According to studies, 82 per cent of customers have an overall satisfying Live Chat experience. You can increase customer satisfaction with Live Chat since it enables customers to immediately address their concerns or questions to your customer service team.
Reduces Waiting Time
When it comes to customers not all of them have the patience to wait. Especially if they are disgruntled and have pressing concerns that need to be solved.
With Live Chat, they don't have to wait around all day for a customer service representative to handle them. Customers and customer service representatives can easily engage and communicate with one another
Customers altogether have to avoid holding calls and delayed emails from businesses. With a chat box popping up and an agent ready to serve them, disgruntled customers will turn to happy ones.
Cost-effective
If you're looking for a way to improve your customer service at a low cost and also generate profit then implementing Live Chat software is what you should do! According to Forrester research Live Chat is cheaper than phone calls about by over 40 percent.
Some businesses are sleeping on the potential of Live Chat to boost their sales and profits. You should take Live Chat into your business as a long-term investment.
Automates Processes
Live Chat is a part of the digital technology disruption in the business industry. And it is not a bad thing since the traditional way of communicating with customers from phone calls and emails are slower.
People nowadays want it fast and hot and you being a business owner want to unfailingly deliver to your customer's needs.
If you don't adapt to the ever-evolving digitalisation of the industry then your business will remain stagnant. Adding Live Chat to your processes not only streamlines workload but also improves the productivity of your employees.
Increases ROI and Sales
How does Live Chat improve ROI and sales? That's probably the one question in your mind right now.
Customers who engage with Live Chat are most likely to buy since if they have a concern about your products or services it'll be quickly resolved. And it will also make their buying decisions quicker.
On a survey conducted by eDigitalResearch, they found out that 73 per cent of customers are placing orders on their visit if they have Live Chat to support them and are highly satisfied by their buying experience.
Think of it this way Live Chat is the digital version of physically buying a product in a mall with someone to assist your customers as they shop therefore no doubt, increasing your ROI and Sales.
Disadvantages:
Not Everyone Can Use It
One of the downsides of Live Chat is that there are customers who are not internet savvy. It would be best if the chat software that you'll get has easy to navigate features.  So that customers of all age groups can easily understand and use it.
Sometimes Not Live
Yes, it's pretty ironic for Live Chat not being Live all the time. Since human agents are behind it. But Live Chat does have AI-generated messages that can notify a customer if an agent is available or not. Other chat agents can handle your customer's queries and concerns as a substitute to stand up to the promise of 24/7 availability.
How to Implement Live Chat in Your Business Strategy?

Whether you're running a small team or a large corporation every business owner can implement Live Chat in their business strategies.
Here's how you can effectively and dynamically insert Live Chat into your business processes.
1. Ux Design
You can implement Live Chat into enhancing the User experience design of your website. It's not just solely on the interface design of the chat software. But it should be strategically placed on the landing page of your site. You can talk to your team on how to improve your site and how Live Chat shouldn't be too obnoxious popping up everywhere but instead, pop in at the right time and gravitate towards your customers. If you have implemented Live Chat well into your site then you'll have a higher chance of reaping the benefits sooner than later.
2. Branding
Branding is everything for every business since it makes customers familiar to them. You want to maintain the consistent branding to your customers by the design and colours of your Live Chat. You don't want the Live Chat looking odd. It would be best if your team customised the Live Chat design to the offline message etc.
3. Sales and Marketing
Of course, Live Chat is a great tool to boost the marketing and sales efforts of your business. Live Chat is said to boost website conversions by 20 per cent. Your marketing team can create a marketing strategy that will complement the sales team goals. The chat software can help aid the efforts of your team to get more ROI and sales.
4. Digital Transformation/ Pivot
Yes, with many brick and mortar companies that are shifting to digital business before or during the pandemic. With implementing Live Chat you're one of the companies or businesses who are using Live Chat to be digitally transformed. And yes, you can use Live Chat to enhance customer service, improve your branding, and make more sales now than ever. Now that you're in the digital world, you can easily connect with your customers and grow your brand.
Factors to Consider With Live Chat
Here are the factors you have to consider when you plan to implement any chat software that is suitable for your business needs. Of course, you can't just jump right into it so here's a list to guide you on your decision.
1. What's Your No.1 Goal?
You have to think what is the primary reason for you and your team wanting to implement Live Chat into your process? Is it to increase sales? I Is it for after-sales support? Will it be for the short or long term? How will the UX design be?  It all boils down to your motivation and goal as the decision-maker of the company.
2. Your Customers
Yes, you always have to think about your customers whenever you implement any strategies for new processes in your services or products. How many of your customers know how to use Live Chat? Do they want to have it available? Your marketing team can conduct marketing research to help you decide in the process.
3. Features of the Chat Software
There is plenty of chat software in the market and it tends to be saturated. You want to get the best chat software that your company can have. The features are also crucial for the success of the embedding of Live Chat on your site. You want to check the auto messages support system or the ability to pop on time? Is the chat software customisable? Do you need any additional features such as a knowledge base or appointment setting capabilities? There are many features to check out so compare them with what will suit your company's needs.
5. Is Your Business and Team Ready for Live Chat?
Live Chat may seem like a small investment but if it's implementing prematurely, you could be doing more damage than good. Live Chat should always have a dedicated team to monitor incoming chat requests because you should be able to answer any chats within 15 seconds, any longer will actually reduce the trust your customers have in your business. Your team should also be able to answer complex questions, simply having an agent there to take down call back requests will defeat the purpose of being able to efficiently communicate with your customers. For more information on getting ready for Live Chat, check out our "Are You Ready For Live Chat" White Paper here.
There you have it, some of the important factors to consider when implementing chat software for your business. Live chat is a great investment for any business and with proper research, time, and energy you'll see the significant change or outcome it brings to your brand and most importantly to your customer's satisfaction.